Welcome Friends of Jeff Herring!
So Many Who Of YOU Wanted To Podcast, But Never Did Because There Were "Too Many Steps" and Technology Overwhelm... I Have The Solution
Watch this short video to learn how...
PICK ONE OF THESE TWO OPTIONS!
Here's what I do for you!
Setup and configure your Podcast on a WordPress website
(Can help you build new site for additional fee or use existing website/login)
Submit your Podcast to Apple, Google, Spotify and Android
Meet with you online every month to record 2 podcasts to post on your WordPress blog (Average length of shows are 10 minutes)
Produce your show with generic music intro or I highly suggest you get a SERP Term Jingle and business audio ad at end of show option
Transcribe show content to text to post as blog post and available to you to share on social media
Supply you with YouTube version of podcast to upload to your YouTube channel
Answer questions and help you know how to promote and distribute your podcast -
This is a monthly coaching meeting with Mike Stewart, internet audio guy as a by product of this service
All you have to do is show up on your computer once a month for an hour and let me ask you questions and let me answer yours as a bonus!

 SERP Term $2K Jingle value, financed over 12 months for additional $200 per month - option #2
PICK ONE OF THESE TWO OPTIONS!
Here is outline of what I do for my client WinnerWellness.com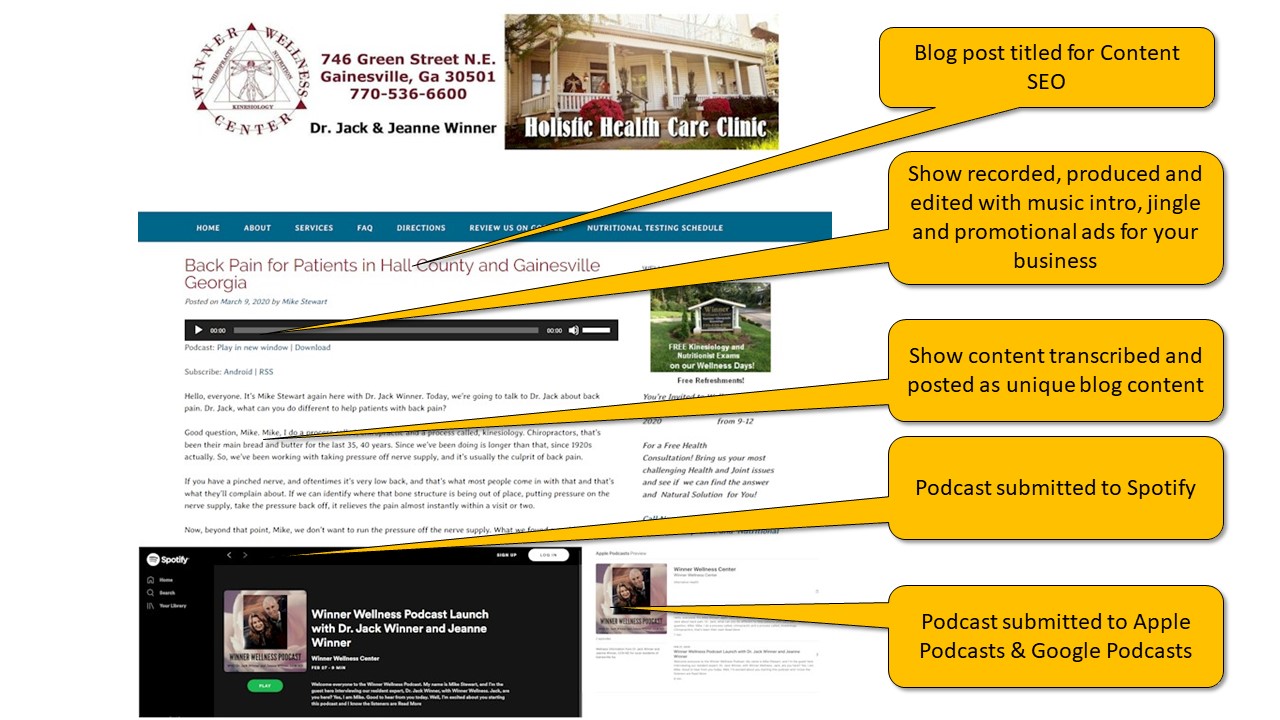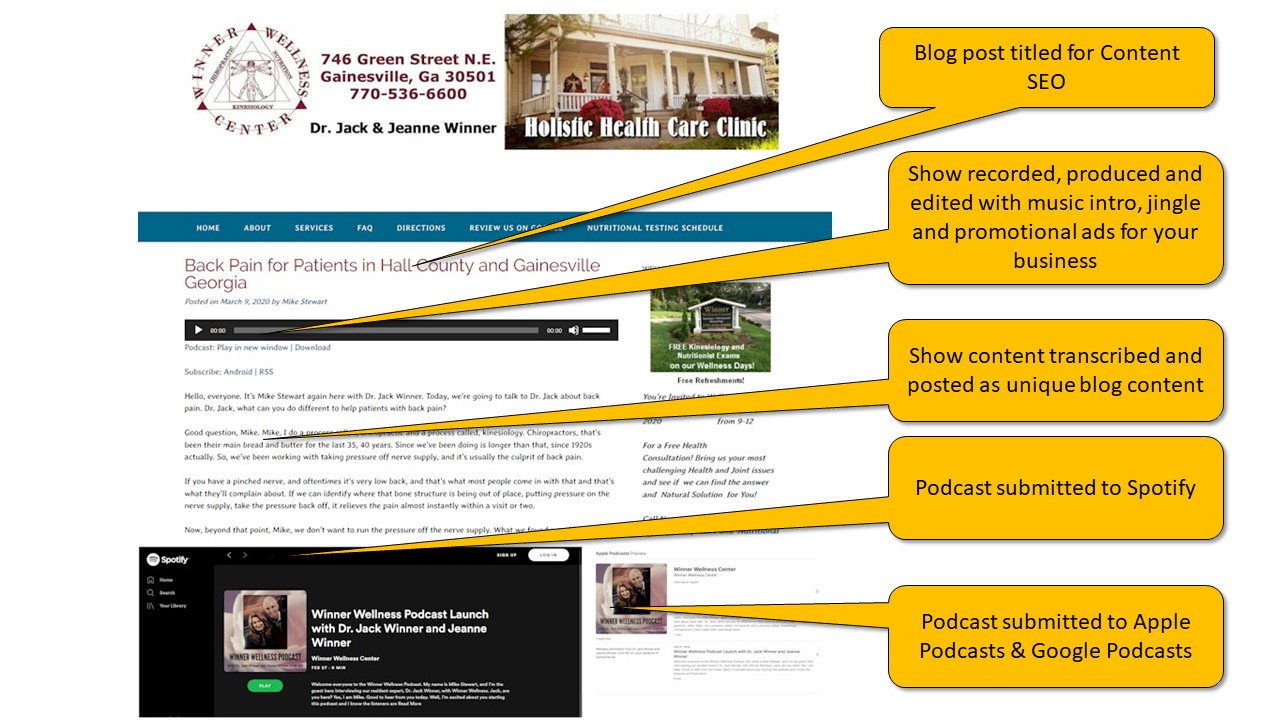 Sample of Winner Wellness Podcast Production Play Button Below
Examples of successful clients who using SERP Music Jingles in their podcast & YouTube videos

Benefits of Podcast Content Marketing

1. Consistent blog posts which improve website rankings in search engines
2. Podcasts are audio newsletters that are listened to on cell phones, home speakers like Alexa and Google Home and now built into car dashboards
3. Apple, Google Podcasts, Spotify are search engines you want to be found and and you find subscribers to become listeners notified every time you publish
4. Podcasts are only place you can run audio ads with jingles for your business for free
5. You can share your podcasts as email blasts and social media posts
6. When you transcribe your content you have fresh, original content you own to post everywhere in social media.
7. You can re-purpose your content as articles in Medium, LinkedIn Articles, YouTube videos while linking back to your websites and email opt-ins for a larger online presence. More traffic…more subscribers…more business
Only room for 10,7, 5 more clients!

Questions? Send me an email or call my cell at 770-826-3662